Booking Information
We welcome telephone calls to book or enquire about your stay and availability. Please ask to speak to Tina when calling. However if you prefer to use email, we are happy to return your enquiry within 24 hours.
We Specialise In:
Group Bookings
Corporate Bookings
Weddings & Special Occasions
Beauty & Pamper Stays
Fitness & Yoga breaks
Mid week relaxation days
VIP Packages (Private Chef or Catering, Maid Service & Limousine)
Photography Training Days
Dog friendly stays
NHS Staff Discount
We are proud to support NHS staff members. NHS staff discounts are available for NHS staff. You can find out more by clicking here or by clicking the image to the right.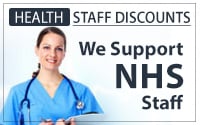 Holding Deposit
If it is you wish to hold the dates off, some of our Guests choose to pay a holding fee of £100.00. Although this payment is non refundable, it is deducted from the deposit should you choose to proceed with the booking.
The Holding Deposit allows you to hold the dates for up to 10 days, which enables you more time to co-ordinate the payment and most importantly your chosen dates are booked off our Calendar.
Booking Terms & Conditions
To confirm the Booking a 30% deposit is required. Full payment is requested 10 weeks prior to arrival. At this point there is also a £250 breakages and security deposit. This is returned within 7 days of your departure, subject to no breakages or damage.
You can download a PDF of our full booking terms & conditions by clicking the link below.
Download Booking Terms & Conditions PDF
How to Book
To book, simple contact us via telephone on 07943 184 816, email us at enquiries@horspool.co.uk, or use our contact form which you can find here.